PCIsets Product Overview
With microprocessor performance doubling every 18 months at every price point and advanced operating systems like Windows* 95 rapidly being utilized, today's PCs are hard pressed to keep pace with user demands for more features, more capabilities and more performance for multimedia, graphics and communications applications.

But now, creating balance between hardware capabilities and the demands of 32-bit software has never been easier. Intel offers powerful new PCI local bus chip sets that simplify system design and make a new baseline target platform a practical reality. New Intel PCIsets let you build in more PC performance at lower costs. By utilizing new technologies, such as Concurrent PCI, the full processing capability of the PentiumŪ and PentiumŪ Pro processors can be unleashed.

Intel PCIsets, the Cornerstone for the Well-Balanced PC Architecture
When chip sets were first designed, most suppliers simply integrated standard functions that were implemented with discrete components in the original PC AT. This technique helped keep prices low and volume high, but the basic PC AT architecture, with its Industry-Standard Architecture (ISA) bus, remained static. With time, designers developed expansion standards to improve I/O performance, leaving the system architecture constrained by buses that have since become inadequate.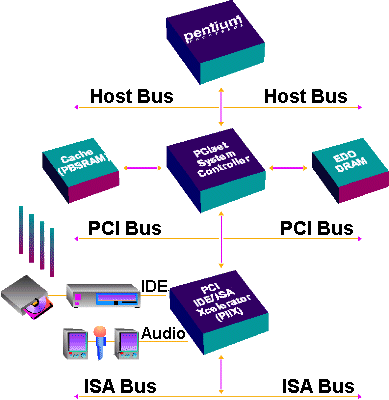 The PCI local bus typifies Intel's innovative approach to new high-performance PC architectures. A more powerful microprocessor requires an advanced, higher speed I/O bus to increase system throughput. Intel PCIsets provide the powerful Pentium processor family with an interface advanced I/O, external cache, memory and graphics subsystems.
Advancing Applications Are Challenging the PC Architecture
Today's power-hungry applications with advanced graphics and integrated video and communications capabilities place higher demands on system resources for multimedia applications. Communications productsare being designed with new capabilities like simultaneous voice and data (SVD), integrated answering machine and speaker-phone functions. Digital audio products incorporate wavetable audio and speech recognition. All these features require robust processing power, as well as a powerful system architecture.
Technology Is Driving Technological Innovation
Because the evolution of semiconductor technology is driving enhanced processing power, there is a need for new technological innovations that utilizes this new processing power. Examples of these innovations are Intel's new Concurrent PCI processing architecture and support of the Universal Serial Bus (USB) industry initiative. These new technologies offer users enhanced PCI throughput and overall system performance while increasing system scalability and upgradability.
Intel 430TX PCIset
The newest addition to Intel's 430 family of PCIsets, the 430TX PCIset, provides optimal performance for both desktop and mobile systems, support for new industry initiatives, and breakthrough power efficiency in a highly integrated two-chip solution. The 430TX PCIset maximizes performance of media-rich applications made possible with MMX™ technology in destop and notebook systems.
Intel 430HX/VX PCIset
The Intel 430HX PCIset is targeted for OEMs and motherboard manufacturers designing Pentium processor systems aimed at the business market segment. Optimal price/performance, compatibility, USB support, reliability and improved connectivity are important to OEMs designing systems for the business market segment. The Intel 430HX PCIset delivers up to ten percent better performance than today's business solutions. With a single, feature-rich system and data control device in Ball Grid Array (BGA) packaging, a higher level of integration and quality exists than with previous chip sets.
OEMs designing systems for the home and small business markets will find the Intel 430VX PCIset provides great price/performance, an upgradeable, snazzy set of features, enhanced multi-media capabilities, USB support, and compatibility with office needs. By using SDRAM as a differentiation option with the 430VX PCIset, OEMs can deliver the highest performance Pentium processors systems. OEMs also benefit from the Intel 430VX PCIset's traditional Plastic Quad Flat Packaging (PQFP) and flexible configuration design options.
Intel 430MX PCIset
The Intel 430MX PCIset effectively elevates the performance level of PentiumŪ processor-based mobile computers. The first of Intel's complete program of mobile PCIset solutions, the 430MX employs many architectural innovations developed for the popular 430FX PCIset designed for desktop computers. It was created for such uses as ProShare(TM), high-speed Ethernet, and audio- and graphic-intensive applications.
Intel 440FX PCIset
The Intel 440FX PCIset is a highly integrated chip set solution for delivering Pentium Pro processor performance to mainstream business systems. This second-generation PCIset for Pentium Pro processors delivers world-class performance at an affordable price. The 440FX PCIset optimizes system performance for 32-bit application software in 32-bit operating system environments, and supports Universal Serial Bus (USB) capabilities for Plug and Play connectivity "outside the box."