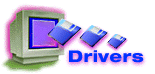 Indeo® Video Interactive Software Drivers
The latest version of Indeo® video interactive, including support for MMX™ technology, is now available!
The Overview page provides detailed information on Indeo video interactive.
You can also read a description and see which files are installed with each driver.
To install any of these drivers, click a driver name, complete the online registration, and follow the installation instructions provided.
* Legal Stuff © 1997 Intel Corporation