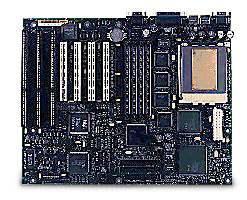 Intel Pentium(r) Pro microprocessor running at 150, 166, 180, or 200 MHz
ATX form factor board
Intel 82450 PCI chipset used for PCI/ISA, memory, and peripheral control
PC87306B Ultra I/O controller (integrates serial ports, parallel port, floppy disk interface, real time clock, CMOS RAM, keyboard controller, and support for an IrDA-compatible infrared interface)
PCI and ISA peripheral connectors
Support for up to 128 MB of DRAM installed in single in-line memory modules (SIMMs)
AMIBIOS in a flash memory device supports system setup and PCI auto-configuration
Expansion slots for up to six add-in boards

Three dedicated PCI-bus slots
Two dedicated ISA-bus slots
One "combination" slot for either a PCI or an ISA add-in board

Two RS-232C-compatible 9-pin serial connectors
One multimode, 25-pin Centronics*-compatible parallel port
PS/2-style keyboard and mouse connectors
Speaker mounted on system board
Password protection for system security
---
For complete information, see the Technical Product Specification and the Motherboard Specification Update.
To get technical assistance for a motherboard manufactured by Intel, first check with your place of purchase or the system manufacturer. They'll know the most about your exact configuration and will have the latest information that is specific to your product.
Intel is able to provide only general technical support information for its standard products. Your motherboard or configuration may be different and, as a result, the information and files included here may not work with your hardware.
This motherboard product may contain design defects or errors known as errata which may cause the product to deviate from published specifications. Such errata are not covered by Intel's warranty. Current characterized errata are available on request.
Updated: Tuesday, November 26, 1996

Legal Stuff © 1997 Intel Corporation