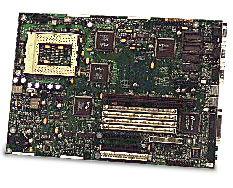 The AP440FX motherboard is a 64-bit, high-performance, mixed-voltage, energy-conscious, highly integrated platform. The AP440FX motherboard supports the following set of features:
Uses a 9-inch by 13-inch LPX form factor.
Uses a type 8 Zero Insertion Force (ZIF) socket to house the standard processor, and provides an upgrade path to future Pentium® Pro OverDrive® processors.
Accepts Pentium Pro processors with core clock frequencies of 150 MHz, 180 MHz, and 200 MHz.
Supports up to 128 MB of DRAM using four standard 72-pin, tin-lead SIMM sockets. The modules can use Fast Page Mode (FPM) or Extended Data Out (EDO) memory. Non-parity (32-bit) and parity (36-bit) memory SIMMs are supported. With parity SIMMs, the board can be configured to support Error Checking and Correcting (ECC) memory operation.
Uses Intel's 82440FX chipset. The Intel 82371SB PCI/ISA IDE Xccelerator (PIIX3) provides an integrated Bus Mastering IDE controller with two high performance IDE interfaces for up to four devices (such as hard drives or CD-ROM).
Uses a Flash BIOS with the following features:

Uses both hardware and software Secure Flash features to protect Flash contents from corruption.
Uses a BIOS that complies with the Desktop Management Interface (DMI-compliant).

Uses the National Super I/O controller (the National PC87307 or the pin-compatible National PC87308 device) to integrate the following standard PC I/O functions:

floppy interface, two FIFO serial ports and one EPP/ECP capable parallel port,
Real Time Clock,
keyboard controller, and
support for an IrDA and Consumer Infrared interface at both slow and medium speeds.

Integrates a Crystal audio codec (CS4232 or the pin-compatible CS4236) on the motherboard to provide 16-bit stereo, Sound Blaster* Pro compatible audio. Provides an onboard telephony (modem) connector to support the latest telephony applications.
Integrates an S3* V+ or S3ViRGE graphics controller onboard to support SVGA graphics at resolutions up to 1600x1200 (when a full 2MB of video DRAM is installed). An enhanced LBP VESA feature connector supports external multimedia capabilities. (Standard configurations offer only the S3 ViRGE graphics controller)
A hardware monitoring ASIC provides the following monitoring functions:

Integrated temperature sensor
Fan speed monitoring
Power supply voltage monitoring
Storage of POST results and error codes

PCI and ISA expansion slots are supported by a connector on the motherboard designed to accept a riser card. An onboard jumper supports riser cards with either two or three PCI slots.
Two Universal Serial Bus connectors (on selected configurations)
For complete information, see the Technical Product Specification and the Motherboard Specification Update.
---
To get technical assistance for a motherboard manufactured by Intel, first check with your place of purchase or the system manufacturer. They'll know the most about your exact configuration and will have the latest information that is specific to your product.
Intel is able to provide only general technical support information for its standard products. Your motherboard or configuration may be different and, as a result, the information and files included here may not work with your hardware.
This motherboard product may contain design defects or errors known as errata which may cause the product to deviate from published specifications. Such errata are not covered by Intel's warranty. Current characterized errata are available on request.
Updated: Tuesday, December 31, 1996

Legal Stuff © 1997 Intel Corporation