ZapCode II Electronic ROM-Code Transmission Service
Request Logon ID
---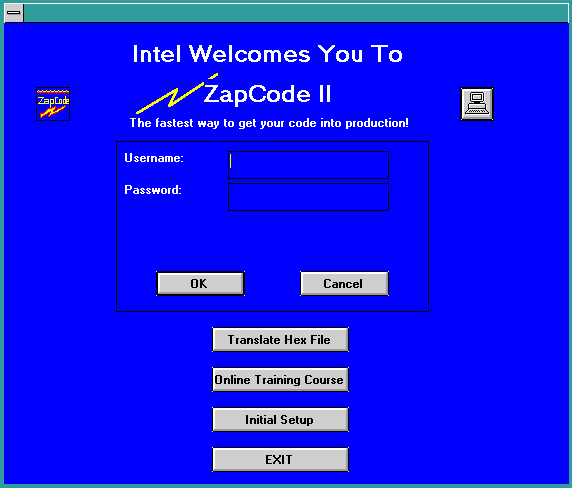 No one else offers you software or support like this!
Intel introduces ZapCode II software for Windows*. It provides a fast, standardized method for submission of your custom media to Intel. Now you can transmit your custom Factory Programmed ROM (FPROM) and masked ROM media electronically from anywhere in the world - 24 hours a day, any day of the week. And it takes only 5 to 15 minutes to send and confirm, depending on the speed of your modem. Plus, the call is free. Compare that to transporting and verifying on an EPROM.

ZapCode II, while standardized, allows you to set a wide range of custom parameters such as part mark details, unit pack options, and device security features. So, you can get your custom parts into production fast.

ZapCode II is free and easy to use.
Everything you need to get started is available in the attached files. To ensure security you need to obtain a user I.D. and password from Intel, then you are ready to access the system by modem.

The usage of this software as well as the right to obtain a user I.D. and password is reserved for Intel customers only. Submitting a ROM code to Intel will not automatically result in ordering a mask or start of production. A sales order will still have to be placed through the Intel sales office where applicable or through a local Distributor.

For more information please call (602)554-8618.



IBM AT or compatible with Intel386(TM) microprocessor or higher
VGA monitor
Hayes compatible modem, 2400 baud or higher
Analog telephone line
Windows version 3.1 or greater (For Windows95 and NT contact ROM Processing for details at (602) 554-8618)
Modem on Com Port 1 or 2
Standardized methodology for submitting custom ROM and FPROM media to Intel
Toll-free modem access, 24 hours a day, every day
15 minute total from log-in to confirmation
Auto confirmation
Worldwide access
Windows* graphical user interface
On-line user manual and computer-based training
Data security and confidentiality after receipt by Intel
other brands and names are property of their respective owners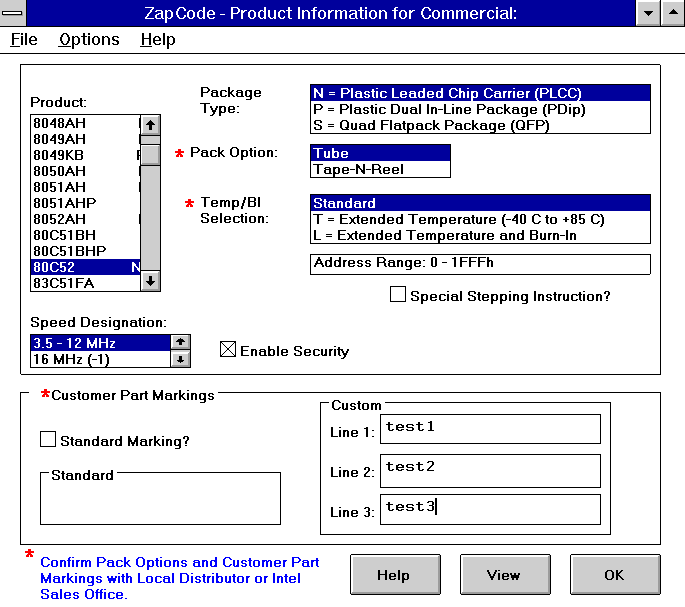 ---
File Name/Size:

ZC2KIT.EXE


Download From:


Description: Zipped ZapCode II software kit
Latest Version: 1.0
File Size: 1,663,510 bytes


 

To Install:
1. Create a ZapCode directory on your hard drive
2. Copy ZC2KIT.EXE to the new directory
3. Execute ZC2KIT.EXE - unzipping the installation files.
4. Execute SETUP.EXE and follow the instructions.
---
File Name/Size:

HANDBOOK.PDF


Download From:


Description: ROM Handbook
Latest Version: December 1995
File Size: 1,315,020 bytes


 

The ROM and ZapCode II Handbook is a user manual to help install and use ZapCode II to send ROM code electronically to Intel. The manual also briefly describes all ROM products available at Intel. We believe this manual, the device's user manual, and the ZapCode II system have the information you need to make the decision about ordering Intel ROM products.
---
Intel's ROM customers can request a user ID and password..



Legal Stuff © 1997 Intel Corporation