Value Series 100 Flash Memory Card
Evaluation Kit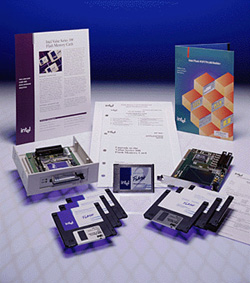 PRODUCT OVERVIEW
The Value Series 100 Flash Memory Card Evaluation Kit (FLASHVALUEKIT) quickly and easily enables the use of Intel Flash Cards with MS-DOS*-based ISA systems. This kit provides everything necessary to add a PCMCIA socket to a desktop system.
The Value Series 100 Flash Memory Card Evaluation Kit ideally suits the needs of designers creating mobile, handheld and sub-notebook products; designers who want to evaluate Flash Card products for embedded applications; and ISVs who write software for Flash Card products.
To shorten time to market, this kit contains all necessary tools in a single box, thus eliminating the time-consuming task of seeking and obtaining separate components.
This kit includes SystemSoft's* latest PCMCIA software suite. The evaluation kit also supplies the designer with M-Systems'* TrueFFS*—an industry-standard FTL Flash Media Manager solution. Additionally, this kit includes source code and documentation for Intel embedded flash file systems, flash media managers and utilities, enabling modifications for specific system requirements or product differentiation.
PRODUCT HIGHLIGHTS
Complete solution for adding a PCMCIA socket to an ISA-based system

Includes ISA-based PCMCIA Reader/Writer that fits into an empty 3.5" or 5.25" floppy bay

Created for Intel Architecture MS-DOS- or Windows*- based systems

Includes source code and documentation for non-DOS system development

Includes SystemSoft's PCMCIA software suite

Contains M-Systems' TrueFFS industry-standard FTL Flash Media Manager

Excellent for evaluating Flash Card performance with multiple software configurations

Excellent for developing Flash Card embedded applications
---
| | |
| --- | --- |
| FEATURES | BENEFITS |
| All-in-one kit | Contains everything needed to develop Intel Flash Card-ready systems |
| Includes Intel embedded flash file systems, flash media managers, utilities and reference documentation | Enables code modifications for specific system requirements |
| SystemSoft PCMCIA software suite | Industry-standard PCMCIA software suite |
| M-Systems' TrueFFS Flash Media Manager | Industry-standard FTL flash file system |
OTHER RELATED COLLATERAL

ITEM
DESCRIPTION
Product Brief
Value Series 100 Flash Memory Card Product Brief
Datasheet
Value Series 100 Flash Memory Card Datasheet
Application Note (AP-622)
Upgrade to the Value Series 100 Flash Memory Card
Software Design Support Tools
Flash SOFTWAREBuilder
Intel Access
World Wide Web Home Page
http://www.intel.com/
FaxBack* System
(800) 628-2283 or (916) 356-3105
Application Bulletin Board System
(916) 356-3600
Other Intel Support:

Intel Literature Center

(800) 548-4725 7 a.m. to 7 p.m. CST (U.S. and Canada)
International locations please contact your local sales office.

Retail PC and Network Products

(800) 538-3373 or (503) 629-7000 7 a.m. to 7 p.m. PST

General Information Hotline

(800) 628-8686 or (916) 356-3104 5 a.m. to 5 p.m. PST
UNITED STATES
Intel Corporation
2200 Mission College Blvd.
P.O. Box 58119
Santa Clara, CA 95052-8119
JAPAN
Intel Japan, K.K.
5-6 Todokai,
Tsukuba-shi
Ibakari
300-26
FRANCE
Intel Corporation
S.A.R.L.
1, Rue Edison, BP 303
78054, Saint Quentinen-
Yvelines Cedex
UNITED
KINGDOM
Intel Corporation
(U.K.) Ltd.
Pipers Way, Swindon
Wiltshire, England
SN3 1RJ
GERMANY
Intel GmbH
Dornacher Strasse 1
85622
Feldkirchen/Muenchen
HONG KONG
Intel
Semiconductor Ltd.
32/F Two Pacific Place
88 Queensway
Central
CANADA
Intel Semiconductor
of Canada, Ltd.
190 Attwell Drive,
Suite 500
Rexdale, Ontario
M9W 6H8
---
297716-002

Intel Corporation assumes no responsibility for the use of any circuitry other than circuitry embodied in an Intel product. No other circuit patent licenses are implied. Information contained herein supersedes previously published specifications on these devices from Intel.


Legal Stuff © 1997 Intel Corporation